Liposomal Prenatal Complete
Advanced Nourishment For Both Mom and Baby
Liposomal Prenatal Complete
Advanced Nourishment For Both Mom and Baby
Promotes Baby's Developmental Health
Supports Mom's Nutritional Needs
Nourish your health and the health of your precious little passenger with all the right vitamins, minerals, and essential fats. Prenatal Complete provides you the peace of mind that you and baby are fully supported as you grow together.*
$33.96
Subscribe & Save 15%
Delivery every 30 days. Cancel anytime
Join over 30,000 monthly subscribers!
90-Day Money Back Guarantee
THRILLED TO HAVE FOUND THIS PRENATAL
"This prenatal has made me and my baby feel well-nourished all throughout my pregnancy journey. Clean, gentle ingredients and so easy to take! I love it!"
- Katherine W.
Proven Benefits

17 Key Vitamins and Minerals
97% of women take a prenatal, and yet 95% still lack what they need. Most prenatals are formulated with the bare minimum of ingredients, which makes it hard for mother's to nourish for two. Prenatal Complete offers well-rounded daily support for both you and your baby's needs.

Brain and Spine Health
The first spark of brain development starts as early as the third week of pregnancy. Support your little one's growing brain with highly bioavailable nutrients like Folate, Choline and Omega-3 to keep their development on track and help prevent any neural tube defects from occurring.

Bone Health
Daily nutrients like calcium and vitamin D supports the growing needs of your little one, while making sure your bones stay strong and supported as well.

Energy Boost
Early in pregnancy, hormone changes can result in low energy levels and fatigue. This blend of B-vitamins and Omegas will support your natural energy levels all throughout your pregnancy journey.

Absorbs 10x Better
Traditional vitamins only deliver around 10% of the nutrients they contain because your body breaks them down just like food. This means your stomach only absorbs that 10% and leaves the rest to waste. We solved this problem by using liposomes, which acts as life jackets for these nutrients - so the benefits you experience are always elevated!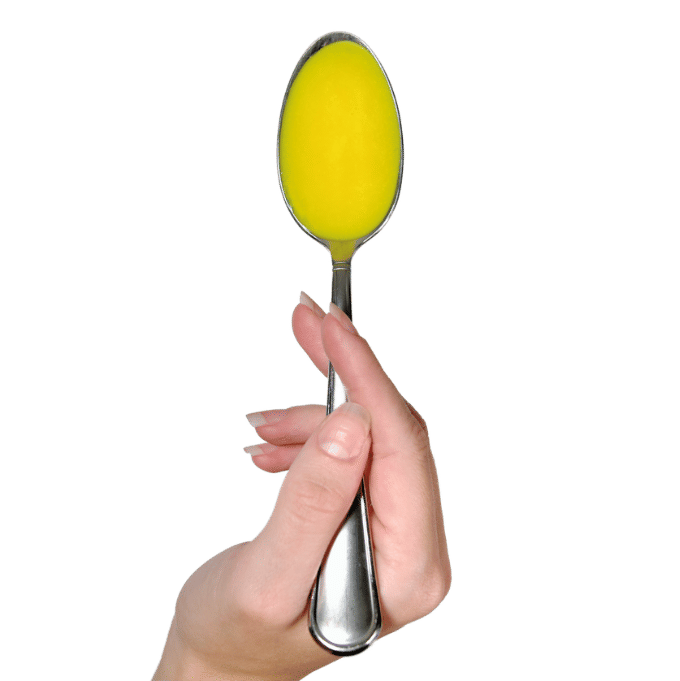 THIS IS THE PRENATAL EVERY PREGNANCY NEEDS!
"The best supplement for every stage from pre-pregnancy to after birth! It has made my body feel so supported and helped me bring a healthy baby into this world! Thank you!"
No Fillers, No Nonsense
Proudly formulated and made in the USA from the finest globally-sourced ingredients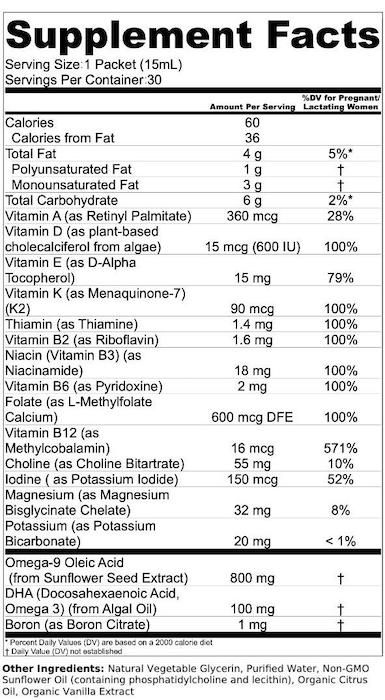 Only The Best Ingredients For A Nourished Mama and Her Baby-To-Be - Nothing Else
17 Key Nutrients and Sunflower Lecithin
Our Prenatal Complete includes high-quality vitamins and minerals that both you and your baby need to stay strong, supported and healthy at every pregnancy stage. Each nutrient is combined with sunflower lecithin for maximum absorption.
THE SECRET INGREDIENT
Why Your Supplements Need NANOFUSE® Liposomal Technology…
Most vitamins and supplements simply don't work. That's because pills and powders have very poor absorption.
Unlike most companies, Manna only uses liposomal delivery, which is scientifically proven to absorb up to 10x better.
Manna's superior absorption means more health benefits for you and your family.
Manna vs pills and powders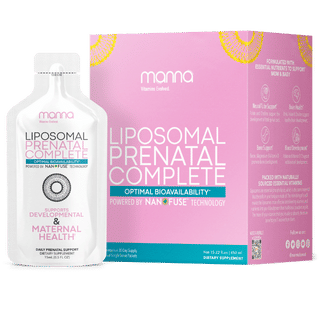 Superior Absorption by 10x
One Liquid Serving Per Day
90 Day Money-Back Guarantee
HOW TO TAKE MANNA
1. TEAR OPEN
Tear open packet
2. MIX
Stir into your favorite beverage, or simply take it straight.
3. DRINK & ENJOY
Enjoy powerful benefits you can actually feel!
CONSISTENCY IS KEY
TAKE FOR 90 DAYS
While the amazing benefits of Liposomal Prenatal (such as supporting your baby's development) starts working right away, consistency is key to achieve dramatic results.

We recommend taking Liposomal Prenatal for 90 days to truly unleash the life-changing benefits.
GET AMAZING RESULTS
LIKE THESE CUSTOMERS
MY ENERGY IS UP, I FEEL GREAT
"I spent half my pregnancy trying gummy vitamins that had me feeling from so-so to terrible. I'm so happy I found these! My energy is up and I feel great. I love that it's a liquid serving I can take with me anywhere! This is the best prenatal vitamin ever!"
- Jenny P.
MY DOCTOR LOVES THE INGREDIENTS
"I've been taking these since before I got pregnant and during my entire pregnancy. Even showed it to my doctor and she was very impressed with the ingredients. This is the only brand I trust!"
- Tracy G.
SUPPORTS ME AND MY BABY
"I've noticed a lot of prenatals included low doses of vitamins that only cover the baby's needs and forget about the mom's. This prenatal has the perfect dose that kept me and my baby supported all throughout my pregnancy! I love!"
- Sofia H.
Frequently Asked Questions
Why should I take a prenatal vitamin?
It's important to support your health as your nutrient needs change during conception and throughout your pregnancy. Prenatal vitamins also support the development and healthy weight of your growing baby.
When should I start taking a prenatal multivitamin?
Prenatal multivitamins, like Liposomal Prenatal Complete, are ideally started when planning to become and throughout the duration of the pregnancy.
How long does one order of Liposomal Prenatal Complete last?
Each box has 30 individually packaged servings, which is enough for a 30-day supply. No measuring required!
Can I take Liposomal Prenatal Complete with other supplements?
While many of our supplements are designed to be taken together, pregnancy is a unique period of your life with different nutritional needs. The standard multivitamin you may have been taking previously may have more or less of certain vitamins than your body needs. That's why before and during pregnancy a standard multivitamin is replaced with a prenatal multivitamin, like Prenatal Complete, which is specifically designed to support a healthy pregnancy. We highly recommend discussing your nutritional needs during this time with your OB/GYN, and following their guidance on any other supplements you should add or restrict from your routine.
Does Liposomal Prenatal Complete contain iron?
To provide the safest possible product for both mother and baby, we've formulated our product without iron. Sufficient iron status for an expecting mother is critical for the developing fetus, and most women will need to supplement with iron, but many will not. Too much iron intake can increase the risk for developing gestational diabetes as well as other health risks. That's why it's important for your OB/GYN to monitor your serum iron levels and advise you on any additional supplementation accordingly.
How should Liposomal Prenatal Complete be stored?
Liposomal Prenatal Complete doesn't need to be refrigerated but should be stored in a cool, dry place. Try to avoid direct sunlight and extreme heat.
How do you recommend taking Liposomal Prenatal Complete?
We recommend taking 1 packet per day, at any time of day. Prenatal Complete can be taken alone or mixed with a drink of your choice, such as water or juice.
What is the source of the DHA in Prenatal Complete?
This DHA comes from algae, and is 100% vegan. Algal-based DHA oils are advantageous when compared to fish oils for many reasons, including no risk of heavy metal contamination from fish, no foul odor, and are highly consistent in their measurable amounts of Omega-3's.
Are there any preservatives in Prenatal Complete?
Nope! We do not add any preservatives to our Prenatal Complete formula.
Why are Liposomes so important?
Without applying liposomes to your supplement, you're taking away the opportunity for your body to absorb all the nutrients you're putting into it. Vitamins and minerals taken without an aid, such as liposomes, are consumed with no way to protect itself while traveling through the harsh GI tract. Liposomal encapsulation significantly increases the volume of fragile nutrients reaching their ultimate destination; your bloodstream.
All Manna products are proudly made in the USA!
Do you test your supplements and check for contaminants?
Every single batch of Manna supplements must pass testing for bacterial and heavy metal contamination. In addition, every raw material used for our products must have a "Certificate of Analysis" from its supplier to prove the purity and potency of the ingredient before being accepted into the manufacturing facility.